Identifying mold in a home or business seems like a pretty straightforward task. However, there are thousands of different types of mold and not all have the appearance you would expect. Both molds and mildew are types of fungi and both are related to moisture problems. But, they have different appearances. What you may think is dust, dirt, or cobwebs may actually be mildew or mold. Not all are hazardous, but to the untrained eye it is difficult to know the difference.
When you think of mold, you probably think of the fuzzy black or green mold you commonly see growing in moist areas, and on old food. That's not hard to identify. But, mold doesn't necessarily present this way and many times it's overlooked until there is a serious problem.
When mold first begins to grow, it can have the appearance of dust, dirt, or chimney soot. So, it may be just wiped away or even left to grow to a larger problem unintentionally. Over time, mold becomes more prominent. But, even then its appearance may puzzle property owners and lead to uncertainty.
Some mold descriptions are:
White, thread or cobweb-like patches
Black, gray-brown, gray-green or white patches ('green velvet'; 'white flour')
Orange, pink or purple patches behind wallpaper or vinyl (signs of a mold 'bloom')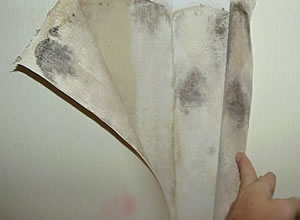 In homes and businesses, molds are commonly found indoors on wet windows, damp walls and ceilings, near floorboards, kitchen and bathroom sinks, showers/tubs, mattresses, food, and stored porous materials. However, mold can grow almost anywhere the conditions provide temperature, moisture, nutrients and spores.