"How much is mold removal?" is a question foremost on the minds of anybody who is facing a major mold infestation in their home. Ridding yourself of the problem via DIY methods is certainly possible, but it's often too daunting a proposition and it's time for professional mold remediation companies to step in. After all, it's a fairly time-intensive process, and few people have the time to just put their lives on hold for several days as they devote themselves to the process.
Add the fact that using a professional company gives you peace of mind, and it's easy to see why people are inclined to look to the pros. After all, unless it's a battle you fight on a regular basis, how sure are you of your ability to completely eliminate the colony, and are you willing to risk your health and the health of your family on it? For a significant majority of people, the answer is "no."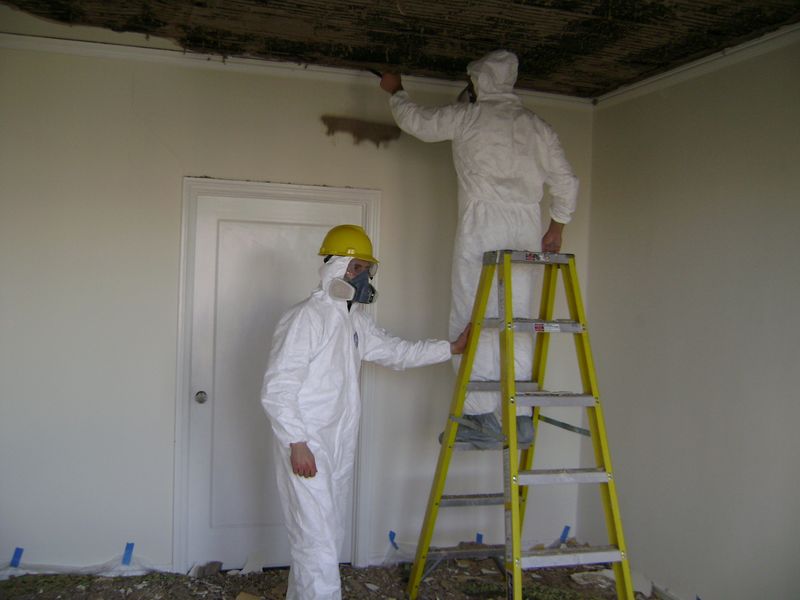 Here then, is a rough outline of the kinds of cost figures you can expect to see when you call in the experts. Please keep in mind that these aren't ironclad numbers, but ballpark figures. Every job is different, and the ultimate cost will be dependent on a number of factors including the size of the impacted area, the amount and type of damage done, and the severity of the infestation, and all that is before taking into account the average cost of living in different parts of the country, and how that impacts the final price. Nonetheless, the figures below will at least give you an idea of what you're looking at. We'll go from the least expensive service to the most.
Testing
In a lot of cases, it's fairly obvious that you've got a mold problem, but if you're suddenly finding that you, or members of your family are having an allergic reaction, or are exhibiting other symptoms commonly caused by mold, and you don't see any visible signs of a mold colony, then testing can tell you for certain. Generally, two indoor tests are performed, along with one outdoor test, which serves as a baseline. The baseline is important because it'll give you a good idea of the severity of a potential infestation, and remember, mold spores exist pretty much everywhere, and many are airborne. The outdoor test will give you a number to compare the results of the two indoor tests to, and you'll be in a good position to make plans from there, based on those results. Expect to pay between $300-$400 for such a test.
Limited-Area Remediation
If your mold problem is confined to a smallish area, and/or is limited to crawlspaces, you can expect to pay anywhere from $500 to $4,500 to be rid of the problem. Most of this type of work is centered on cleaning, dehumidification, and air purification.
Wide-Area Remediation
For larger infestations and impacted areas, prices start at around $2,000 and can run as high as $6,500. Here, we're talking about the prospect of ridding mold from not only crawlspaces, but also air ducts, attic or basement spaces, and walls. The price goes up depending on the amount of drywall that ultimately needs to be replaced.
Massive Infestations & Structural Damage
Generally speaking, this type of job is what's called for in the aftermath of a major hurricane or other flooding that sees large amounts of standing water in your home for extended periods. As you might expect, this type of work doesn't come cheap. Expect to pay a minimum of $10,000 here, with the price possibly going considerably higher, depending on the extent of the damage. It's not at all uncommon to see these kinds of jobs push past thirty, forty, or even fifty thousand dollars or more. The good news is that in these cases, provided you've got flood insurance, a big portion of the work may be reimbursed. Remember, however, that the actual mold removal generally isn't covered by insurance policies, so while the company will likely help with the repair portion, you'll probably still be on the hook for at least some of the bill.
Regardless of what your insurance company does, or doesn't do, it's all but certain that you'll need to make other living arrangements until the work is complete. With the kind of damage we're talking about here, odds are that your home isn't even habitable.
In all cases, it's important to get a written estimate. Most professional companies are happy to do this, and will provide one free of charge, and don't be bashful about shopping around to get the best rate for the work you need to have done.