It is nature's grunge band – it loves dark, damp corners and thrives on drama, especially the notorious black mold! While we appreciate its commitment, it's not a guest we want! This slimy intruder can harm your health. But why, how, and what can we do about it? Let's dive in!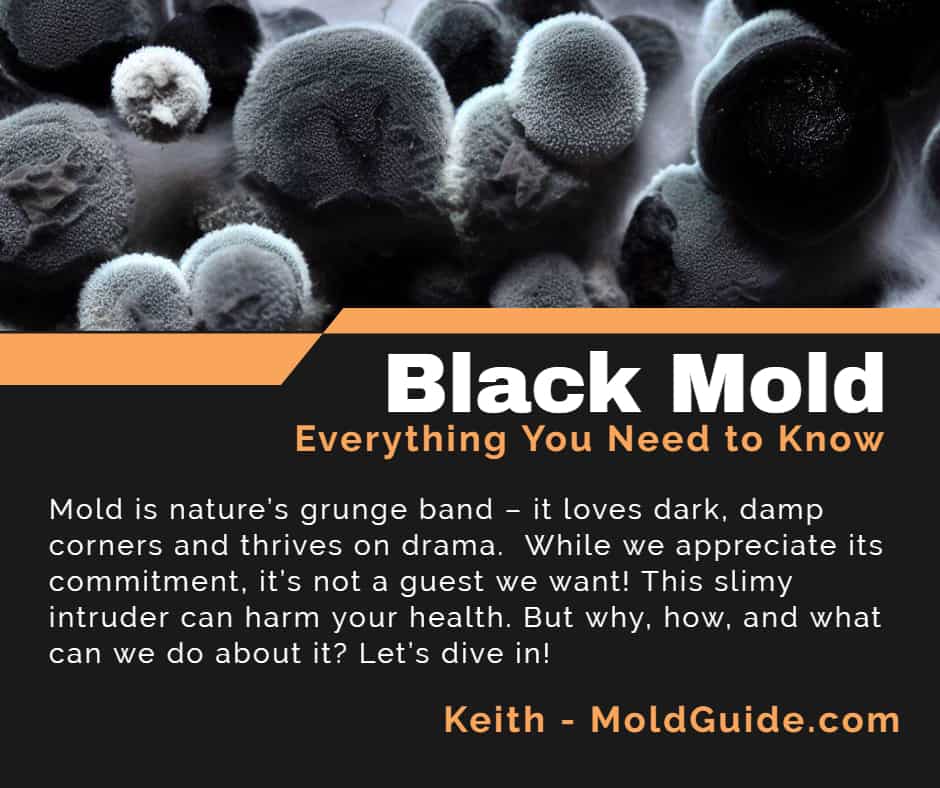 What are the health effects of black mold?
Scientifically known as Stachybotrys chartarum, is a toxic mold that can thrive in damp, humid conditions, and cause numerous health problems. It can be found anywhere, from your bathroom tiles to the drywall in your basement.
One misconception that might surprise you is what people refer to as "Black Mold" isn't just one thing. The mold is actually a fungus from a genus of fungi called Stachybotrys, which contains more than fifty different closely related species of molds. Of these, there are two in particular, Stachybotrys chartarum, and Stachybotrys chlorohalonata, which are collectively referred to as Black Mold.
Another myth is that it's is always toxic. The truth is, mold itself is not toxic, but it can produce toxins called mycotoxins. Not all types produce these harmful compounds, and even those that do may not produce them under all conditions.
Health effects can be severe. Exposure to spores can lead to various health problems including respiratory issues, skin rashes, eye irritation, coughing, wheezing, headache, fatigue, and in severe cases, chronic lung diseases.
Preventive Measures
Preventing mold begins with creating conditions unfavorable for its growth. Proper ventilation is crucial to keep humidity levels in check, especially in areas like the bathroom and kitchen. Regularly cleaning black mold from your home, particularly damp areas, can also help prevent mold infestations.
Addressing water leaks promptly is another preventive measure. Mold loves moisture, and a leaking pipe or roof can provide the perfect breeding ground. Check your home regularly for leaks, and fix them as soon as possible.
Building Mold-Resistant Homes
Did you know that some building materials are more susceptible to mold than others? Materials like drywall, carpet, and wood can absorb moisture, providing ideal conditions for mold growth. Over time, it can indeed damage the structures of your home. Mold feeds on organic materials, which can include the wood in your home's structure.
On the other hand, materials like metal, plastic, and glass are less likely to harbor mold. When renovating or building, consider using mold-resistant materials, especially in areas prone to dampness.
Remember, it tends to be found in areas with persistent moisture, such as bathrooms, kitchens, basements, laundry rooms, and around leaks in roofs or pipes.
| Data | Information |
| --- | --- |
| Scientific Name | Stachybotrys chartarum |
| Common Symptoms | Allergic reactions, respiratory issues, skin irritation |
| Health Risks | Respiratory problems, allergic reactions, weakened immune system |
| Moisture Requirement | High humidity (above 55%) and damp environments |
| Growth Conditions | Cellulose-rich materials (e.g., drywall, wood, carpet) |
| Common Locations | Basements, bathrooms, kitchens, attics, and areas with water damage |
| Appearance | Black or dark greenish-black in color |
| Odor | Musty or earthy smell |
| Spreading Mechanism | Spores released into the air and carried by airflow |
| Prevention | Proper ventilation, reducing moisture, fixing leaks |
| Remediation | Professional mold removal or extensive cleaning |
| Health Effects | Allergic reactions, asthma attacks, respiratory infections, neurological issues |
| Testing and Inspection | Air sampling, visual inspection, moisture testing |
| Legal Issues | Exposure may lead to lawsuits and insurance claims |
Understanding Mold Infestation
Before embarking on a mold removal mission, it's important to conduct a thorough mold inspection. This step helps identify the locations and extent of mold infestation in your home. Professionals use tools like moisture meters and infrared cameras to detect mold, even in hidden areas. How to test for black mold can get tricky but You can purchase mold testing kits to detect mold in your home.
Small mold issues can be handled with appropriate protective measures and the right cleaning products. However, larger infestations or mold in hard-to-reach places should be handled by a professional to ensure complete and safe removal.
Various commercial products are available for mold removal, ranging from sprays to foams. It's crucial to choose a product that is specifically designed to tackle the mold species you're dealing with.
Documenting Mold Infestation
Documentation of mold issues is essential, especially when you're dealing with insurance claims or seeking professional help. Take photographs before, during, and after the cleanup. Note down the extent and location of the damage. Keep receipts of any purchases related to mold remediation. If you're wondering whether you should be moving out during remediation or not then the answer depends on the extent of the mold infestation. For severe infestations, it might be necessary to temporarily relocate during the remediation process to avoid exposure to mold and the chemicals used in the cleanup process.
How Long Does It Take To Grow?
The exact time frame varies on a number of conditions, not the least of which is the climate (especially the level of humidity/amount of moisture in the air), and the material it's growing on. In homes it is especially fond of drywall and carpet, and on those materials, a colony can take hold in as little as 24 to 48 hours, although at that point, it will be too small to see.
In another 24 to 48 hours, the colony will probably have grown large enough that you'll begin to detect the telltale odor, and in almost every case, you'll smell it before you see it. Within about a week, however, it will be large enough that you definitely won't be able to miss it, and if left unchecked, it will continue to grow and spread quickly.
Navigating Legal and Insurance Aspects
Dealing with it isn't just about home maintenance; there are also legal aspects to consider. If you're a renter, your landlord is typically responsible for maintaining a mold-free living environment. If you're a buyer, sellers must disclose any known mold problems. However, laws can vary, so it's crucial to understand your rights and responsibilities in your specific situation.
Insurance coverage for mold damage varies. While some homeowners' insurance policies may cover mold damage, many specifically exclude it, considering it a maintenance issue. Some insurance policies may cover mold remediation following a covered peril (like a burst pipe), but may not cover mold caused by neglect or failure to maintain the property. Always check with your insurance provider for specifics.
Effect on Pets
It's not just a threat to human health; it can affect our furry friends too. It's all too easy for this toxic fungus to find a cozy corner in our homes, affecting not only us but our beloved pets as well. Dogs, cats, and even small animals like hamsters and birds can be affected.
Just picture this – Fido, your energetic golden retriever, has been spending a lot of time in the basement lately. It's cooler there during the hot summer months, and it's his favorite retreat.
But unbeknownst to you, the basement's been developing a mold problem due to a slow leak in the pipes. One day, Fido seems less enthusiastic about his morning walk.
He starts to cough and wheeze, and he's not eating much. Initially, you think it might be a seasonal allergy or a minor cold.
But when Fido's symptoms persist, you start to suspect that it might be something more serious. You look around his favorite haunts for potential issues and find patches in the basement. The realization sets in – it's not just people that are at risk from it; our pets are too. Our animals can't tell us what's wrong; it's up to us to protect them from hazards.
Symptoms of exposure in pets can vary, but common signs include persistent coughing, wheezing, lethargy, and a loss of appetite.
So, it's not just about looking after the health of your human family members but extending that care to the furrier ones too. In homes with pets, it's even more critical to maintain regular checks for mold, especially in areas where your pets spend a lot of time.
Long-term Health Effects
Long-term exposure can potentially lead to health problems. Symptoms may vary from person to person, but common ones include persistent coughing, sneezing, headaches, and eye irritation. Some individuals may experience more severe reactions, such as difficulty breathing or recurring lung infections.
If you or a family member experience these symptoms and find it in your home, seek medical attention and consult a professional for mold remediation. Remember, your health comes first.
It produces a significant indoor air quality issue, and understanding it is key to maintaining a safe and healthy home environment. By debunking myths, implementing effective containment strategies, documenting mold infestation, understanding its ecological role, and being aware of its potential health impacts, we can better manage this unwelcome invader.
What Causes it?
As with other types of mold, a colony can take root and grow just about anywhere, but there are two things it loves better than anything else, moisture and cellulose. Unfortunately, both of these things are extremely common, and even worse, they're extremely common in homes, which is why you so often hear builders and contractors talking about it, and the potential dangers it can pose. Make no mistake though, the stuff will grow just about anywhere. In fact, NASA recently had to delay an important launch of materials and supplies to the International Space Station (ISS) because a colony was found growing in several supposedly sterilized cargo bags!
What Does it Look Like?
There are numerous varieties of mold, and their appearances can vary significantly. If you're wondering what does black mold look like, look for a dark-colored colony, which usually has a black or dark green hue. It often appears slimy or gelatinous due to a wet layer on the top. This wet layer is due to the mold's preference for wet environments. However, if its water source dries up, black mold can also look dry and powdery.
It tends to grow in patches and has a somewhat circular shape. It can spread over surfaces in a pattern that almost looks like irregular spots or speckles. You can commonly find it in areas with persistent moisture, such as bathrooms, kitchens, and basements, particularly around leaking pipes or in homes with flood damage.
Remember that while it's useful to know what it looks like, it's equally important to understand that not all black or dark-colored molds are the harmful Stachybotrys chartarum. Identification requires professional testing. If you suspect a mold problem in your home, it's best to contact a professional to assess and deal with the situation safely.
Here are pictures of black mold that will help you recognize it if it is present in your home.
For more pics, visit Google images & YouTube.
What Does it Smell Like?
Sense of smell is relative, of course, so if you ask different people what mold smells like, you're likely to get a variety of answers. There are some common themes, however, and the three most common descriptions are that it smells of rotting wood, rotting paper, or more colorfully, like dirty, wet socks. In any case, it's not exactly a pleasant odor, and you'll definitely recognize it as something that just doesn't belong in your home!
What Does it Do To You?
It affects different people differently. The symptoms are wide-ranging and diffuse. Not everyone will exhibit all of the symptoms we'll describe below, and in fact, some people who come into contact won't get sick from it at all.
Obviously, the concentration and duration of the exposure plays a role here. If you're working in an area with a large, well-established mold colony (trying to clean it up, for example), then your risk is much greater than if you catch the colony while it's still small.
Age, health, and preexisting conditions also play a big role. The CDC has noted that the elderly, the very young, and people with pre-existing respiratory conditions like asthma and COPD are at significantly greater risk then people in other categories.
Note that in cases of extreme exposure, it can kill, but these instances are quite rare. That does not mean, however, that the mold won't hurt you. On the contrary, it can make you quite sick, and while the effects of the mold will slowly fade once you're no longer exposed, some of the effects can be permanent, depending on your level of exposure and how susceptible you are to it. For instance, if the mold compromises your immune system, while you will recover, your immune system may never again be quite as strong and robust as it once was. If it damages your lungs, you will recover, yes, but your lungs may be somewhat weaker than they were before your exposure. For these reasons, it's important to minimize your exposure and if you do get sick, to seek treatment immediately. Here are the various symptoms you may encounter, broken out by the major symptomatic categories.
Respiratory Symptoms
Overwhelmingly, these are the symptoms people see manifest after exposure to a colony, because most people wind up breathing some of the mold spores in, simply by being in close proximity to the colony. These symptoms begin innocently enough, but continued prolonged exposure will make the symptoms get progressively worse.
Initially, you'll notice an itchy or runny nose, and perhaps some difficulty breathing. If you remain in the area and continue to be exposed, these problems may worsen until you begin experiencing wheezing and coughing and nose bleed. Your throat may become quite sore, and your gums may also begin to bleed.
From here, things get progressively worse, and in cases of extreme exposure, Black Mold spores can cause pulmonary edema, which is swelling of the lungs, or a pulmonary hemorrhage, which is bleeding of the lungs. If your exposure progresses to this stage, while you will eventually recover, your lungs are likely to be permanently damaged or scarred, and you'll never regain your lost lung capacity. In other words, it can make you very sick!
Symptoms of the Skwin
These are the second most likely see if you are exposed, because aside from inhaling spores, the second most common means of exposure is direct contact. In these cases, the biggest symptom is inflammation. Your skin will be red and irritated. The longer and more intensive your exposure, the worse this irritation can become, elevating to an outright rash, and even to the formation of blisters. Minimal exposure may leave you with the feeling that your skin is "crawling" or a slight itch, but if you leave the area of the mold colony, both of these will fade fairly quickly.
Symptoms of the Eyes
While most people don't really think of their eyes as being a pathway into the body, this one is an opportunist, and can gain entry and cause damage to any soft tissue, your eyes included. Limited exposure may cause runny or watery eyes that will be bloodshot for a time after you leave the area of the mold colony. Prolonged exposure can lead to blurry vision, jaundice, which is a yellowing of the eyes, and in the worst cases, permanently damaged vision. Again, while you will recover from prolonged exposure, the loss of vision is likely to be permanent.
Neurological Symptoms
The CDC is quick to point out that Black Mold isn't actually toxic, and that's true. However, having said that, it produces trichothecene mycotoxins, and these are neurotoxic. Essentially, these kill neurons in the brain, which can cause impairment of mental ability.
Note that neurological symptoms almost never manifest with casual or incidental contact with a colony. These are symptoms that typically start to appear with prolonged exposure. Even so, it underscores the very real risks that it presents. So if you're wondering if it can kill you, the answer is yes it can.
Symptoms in this category begin with confusion and that feeling of "brain fog" people sometimes get, although in this case, the brain fog never quite goes away. If left unchecked, these symptoms will eventually grow worse, leading to shortened attention span and difficulties with concentrating and paying attention. Memory loss follows not long after, along with increasing periods of disorientation, dizziness, and impaired learning ability. In extreme cases, it can even lead to hallucinations and possibly coma or death.
In this regard, the effects are not dissimilar to another type of mold which has a long history of causing mental problems. It is strongly suspected that a Rye Mold was actually responsible for the hysteria that led to the Salem Witch Trials in the earliest days of American history. All that to say, if you start experiencing any symptoms, it's important to seek medical treatment immediately, before they worsen.
Can it Cause Cancer?
While there is definitely a correlation between mold exposure and cancer, correlation is not causation, and there is as yet no definitive link between the two. It is an area where more research is needed to know for certain (and even the CDC says this). Even so, it is better to err on the side of caution, and if you're worried about the possibility of cancer, you'll definitely want to minimize your risk of exposure.
How Can You Test For it?
If you're worried that you may have some lurking somewhere in your house, testing for black mold can be done by purchasing a black mold test kit from retailers like Amazon, however, if you're buying these online, then odds are that by the time you get the kit delivered to your door, if you have mold, it'll be visible, or the odor will be strong enough that there won't be much in the way of doubt.

The very best solution, however, is to order a test kit and while you wait for it arrive, you immediately start working on taking away the conditions that mold thrives in, so it never even has a chance to take root in the first place, and here, technology is your friend! Specifically, you need two things. Air purification and dehumidification.


There are a number of good quality dehumidifiers on the market for home use, and here, the two most important features you're looking for are devices with digital humidistats, so you can get an accurate reading of the current level of humidity in your home, and portability, so if and when you have to move the device, you're not faced with a daunting challenge. Fortunately, there are a number of home-use dehumidifiers that are built on wheels, and this is definitely a plus! As to the "optimal" level of humidity in your home, the CDC recommends using 50% as your target. Anything more than this, and mold becomes more likely.
Where air quality is concerned, this is really a matter of attacking the problem at its source. Mold spores (along with dust pollen, pet dander and other pollutants) are fairly common in the air of most homes. By filtering the air, these particles are trapped in the unit's filtration system, so they never have a chance to settle anywhere and start to spread. Most air filtration systems have multiple layers of increasingly fine filters, designed to trap particles of varying sizes. Here, what you're looking for is a unit with a HEPA or MERV filter (either will solve the problem). Note that it is possible to purchase a dehumidifier that will also serve as an air purification unit, but you'll pay a premium for these devices as the multi-functionality doesn't come cheap.
How To Get Rid Of it?
As we mentioned earlier, it is fairly hardy stuff, and once a colony is established, getting rid of black mold can take a lot of time and effort to be rid of it. While there are some effective cleaners you can buy from stores and online vendors, for removing black mold, the CDC recommends to mix water and bleach (no more than one cup of bleach per gallon of water) and apply. You'll definitely want to wear rubber gloves when using this cleaning solution.
These cleaners kill it but it it's important to note here, if you're mixing bleach and water, that you should never mix bleach with ammonia or other household cleaners. Doing so can cause toxic, and potentially fatal fumes. Stick with the basics, and apply a lot of "elbow grease," and you'll slowly but surely be rid of the problem!


Interactions and Comparisons with Other Molds
This specific mold can interact with other types of molds, either inhibiting or promoting their growth depending on the environmental conditions and specific mold species present.
While all molds can pose risks, black mold is often considered more dangerous due to its potential to produce mycotoxins, which can have serious health effects.
Understanding its Role in Nature
Despite their notorious reputation in our homes, molds play a crucial role in nature. They break down organic matter, recycling nutrients back into the ecosystem. Their resilience and ability to grow in various environments make them effective decomposers – and unfortunately, effective invaders of our homes as well.
About the Author
Latest Posts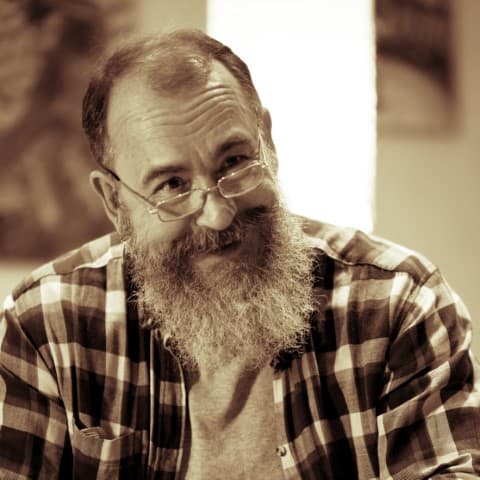 Keith, founder of MoldGuide, transformed personal adversity into a mission to help homeowners combat mold. After his wife suffered health issues linked to a home mold infestation, Keith launched several businesses within the mold and home health niche. An experienced publisher, he leverages his practical experience to offer accurate and understandable information on MoldGuide. Committed to a world where everyone breathes clean, mold-free air at home, Keith's goal is to empower homeowners to maintain healthier living spaces.