What It's For
This compact, small-footprint air filtration unit is specifically designed for single room use. It is the larger cousin of the AC4100 model: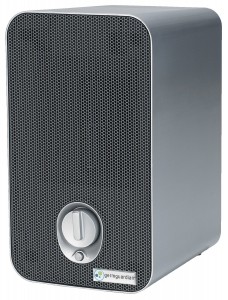 If you're looking for a whole-home solution, you're going to need to invest in one of these for every room in your home, or get something bigger like the Santa Fe Max Dry Dual unit: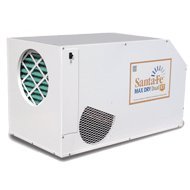 Pros
This is a great single-point product. The best use of a unit like this is to put it in the basement, or any other location that is naturally predisposed to mold infestation, and keep the airborne particles from ever attaching to any surface. The optimal solution, of course, would be to invest in a whole-house air purification system that would focus on more than just the trouble spots or potential trouble spots, but realistically, that kind of investment may be out of reach for many, making this a great spot solution. And, the unit is still fairly small (measuring just 7×10.2×21.5 inches, and weighing a scant 7 pounds), meaning that if conditions in your home change, it's easy enough to pick it up and move it someplace else.
While it's true that you can find units in this weight class with more features, you'll pay a premium for them, and this one has the basics very well covered. Not only does it include both HEPA and charcoal filters (for odor control), it also incorporates UV technology, which kills mold spores as they enter the chamber.
Cons
As referenced above, the only weak point this unit really has is inherent in its design. Unless you live in a tiny home, it's just not big enough to purify the air in your whole house. That's going to see you either investing in multiple units to cover your whole house, or put the device in the trouble, or potential trouble spots where you're most likely to see a mold colony take hold.
Summary
We're giving this one a perfect five stars. Although it's not a whole home solution, its larger size and greater air handling capacity is sufficient for smaller homes (including all tiny homes), and is more than adequate for mold prevention if placed in the spot that's most likely to give you trouble. An excellent machine and a great addition to any home that has had mold issues in the past, or for anyone living in a climate where conditions are favorable for mold colonies to take hold and thrive.