What It's For
Having a mold remediation company come out and conduct a mold test for you can be an expensive proposition, costing you several hundred dollars. That's more than many people are willing to pay, which is why the market exists for these kinds of at-home, do it yourself kits. Healthful Home offers one of the best test kits in the business. It's fast, accurate, and reliable. True, it's a bit pricier than some other home testing kits on the market, but there's a certain premium to be paid for quality, and this test has it.
Sometimes, a mold problem is pretty obvious. If you see black spots on your wall, in your carpet, or growing in the corner, there's not much need for a test. It's pretty clear you have a problem. On the other hand, if you, or members of your family are suddenly developing some of the more common symptoms associated with mold, including itchy skin, watery eyes, sneezing, and sore throat, but there aren't any visible signs of an infestation, a test kit can be a good idea, in that the results of the test will give you a good idea about how to proceed.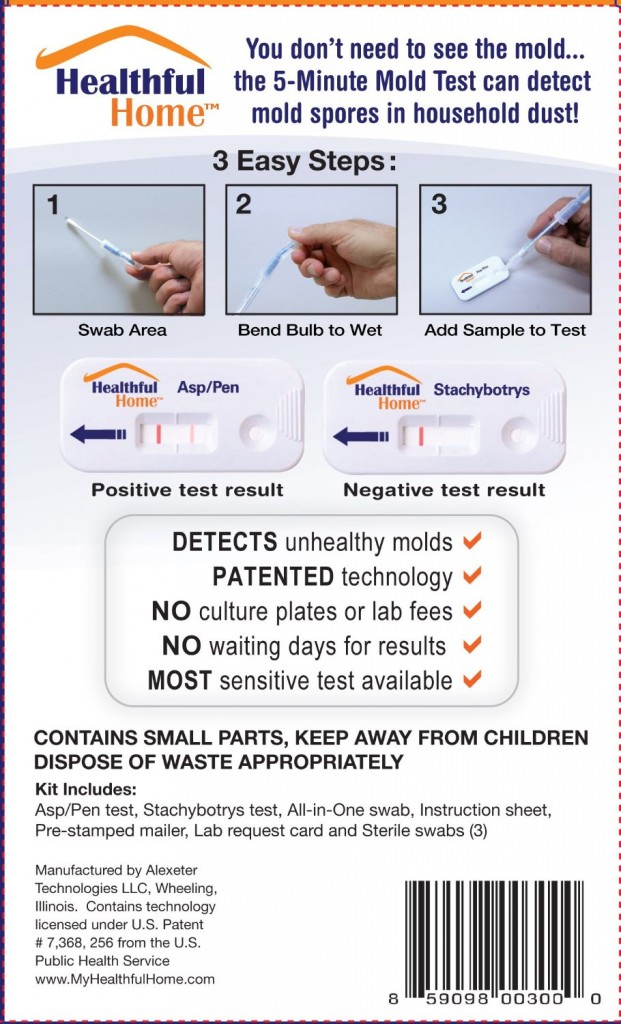 Pros
There's frankly a lot to like about this product. It's fast, easy to use, reliable, and accurate. It will not only tell you IF there's mold present, it'll tell you what kind, which in turn, lets you know if it poses a health risk or not. A lot of other tests look much more attractively priced than this one, but in the fine print, you discover that in order to get your test results, you have to mail your sample off to a lab, pay an additional fee, and wait to hear back. None of those things apply here. You perform the test in three steps, wait a few minutes, and see the results. It couldn't be easier.
Cons
Consider this test to be similar to a home pregnancy test. They actually have a lot in common, including, unfortunately, sometimes ambiguous results on the testing strip. This problem is avoided by other test kits which require sending the sample off to a lab for professional analysis, but of course, that presents problems of its own. By and large, the sometimes ambiguous results the strips can give isn't a huge problem because it doesn't happen often enough to be considered such. True, you will occasionally encounter it, but based on sampling a wide range of customer reviews, that appears to happen only in a distinct minority of cases.
Summary
While no product is perfect, the Healthful Home 5-minute mold test kit comes pretty close. It's true, there have been occasional issues with ambiguous test results, and while these happen often enough to make mention of them, they're not a common enough occurrence to take points from the product for. We give this one a full five stars. Simply an outstanding product. If you think you may have a mold problem in your home, this is all you need to settle the matter and know for sure.