Key Takeaway:
Moisture is a crucial factor in mold growth: Mold requires moisture to grow, which is why preventing and addressing moisture problems is key to preventing mold growth in homes.
A lack of ventilation can contribute to mold growth: Proper ventilation is important in preventing mold growth, as it helps to circulate air and reduce moisture levels in the home.
Mold growth can lead to health problems: Mold growth can cause respiratory problems, allergies, and other health issues, which is why it's important to address and prevent mold growth in the home.
Understanding Mold Growth
Understanding mold growth is crucial for homeowners and renters alike, as it can cause severe health problems and property damage if left unchecked. In this section, we'll explore two critical factors that contribute to mold growth: moisture and ventilation. By understanding the role of moisture in mold growth and the importance of proper ventilation, we can take proactive steps to prevent mold before it becomes a serious problem in our homes and workplaces.
The Role of Moisture in Mold Growth
Excess moisture is essential for mold growth in homes. Mold spores are everywhere, but they need moisture for thriving and spreading. High levels of humidity in the indoors make an ideal habitat for mold.
Mold needs a source of moisture to grow, like leaky pipes, permanent dampness, or condensation. When mold spores locate damp surfaces, they start multiplying speedily, leading to mold growth. Areas not exposed to air, such as hidden walls or carpets without proper ventilation, are also friendly to mold development.
It is necessary to recognize the initial signs of mold growth to stop it from increasing. Moisture marks on walls or ceilings may imply excess water in the walls which can cause mold growth. Additionally, exposure to mold can lead to health issues, such as respiratory problems, allergies, or skin inflammation.
A family experienced black spots on their bathroom ceiling, even after regular cleaning. Later, they found out that an unseen leaking plumbing system caused extra moisture build-up, resulting in mold growth between their living room and dining area's walls. They found the problem through an expensive inspection done by professionals.
The Importance of Proper Ventilation
Proper ventilation is key to preventing mold growth in homes. Mold spores love damp environments, and when there isn't enough air circulation, moisture can build up. This provides the perfect conditions for mold to flourish.
On top of preventing mold growth, proper ventilation can improve the air quality in your home. It helps get rid of indoor pollutants like VOCs, humidity, and carbon dioxide, which can be hazardous to your health.
If you don't have proper ventilation, you may see increased condensation on your walls and windows. This could lead to wood rotting and paint peeling. To ensure a healthy home environment, you need consistent airflow throughout your property.
Lots of things can reduce air circulation in your home. For example, using insulation without proper airflow, closing doors or windows when you should be airing out your home. To fix this, you can try natural upwards flow methods or install mechanical exhaust systems.
For example, a family moved into a new home and started having respiratory issues. They found out their bathroom's vent system wasn't working properly and mold was growing in the walls. They changed the vent system and the problems went away.
It's important to remember that poor ventilation can cause leaks and lead to mold growth. So it's essential to make sure your home has proper ventilation to prevent mold growth and keep it a safe place.
10 Common Causes of Mold in Homes
In order to understand how mold develops in homes, it's important to examine the common causes that lead to its growth. This section will explore 10 such causes, ranging from persistent humidity to foundation cracks, and highlight the detrimental effects they can have on both your home's structure and your family's health. Based on the reference data, we will provide insights on how these causes can be identified and prevented.
Persistent Humidity
Moisture is a major cause of mold growth in homes. Excess moisture in the air, known as persistent humidity, can be the root of the problem. When indoor humidity levels rise above 60%, it encourages mold growth and when it passes 70%, it promotes it.
To reduce persistent humidity, proper ventilation is key. Air circulation can prevent moisture buildup. Utilizing exhaust fans in areas with high moisture levels, like bathrooms and kitchens, can help. Furthermore, dehumidifiers can regulate indoor humidity levels.
Sources of persistent humidity, such as water leaks, must also be addressed. Any leaky pipes should be fixed right away and any water damage needs to be removed.
Despite these measures, issues caused by persistent humidity and resulting mold growth may occur. When this happens, professional help should be sought. Mrs. Green, for example, had been using dehumidifiers and having exhaust fans in her home, yet still couldn't manage the persistent humidity. Professionals then discovered leaking pipes inside the walls that had been overlooked. After fixing them and cleaning affected areas, Mrs. Green noticed a significant decrease in mold growth.
Leaking Pipes
Leaking pipes can be a real issue, leading to mold and mildew growth. They can cause havoc; water seeping through walls, ceilings, rotting wood and insulation. Also, moisture will result in persistent humidity, raising the risk of mold growth.
If you don't repair the leak promptly, this moist environment will be an ideal spot for mold and mildew to flourish. Homeowners should take steps to regularly check for leaks.
Ventilation is key in preventing mold growth. Also, regular maintenance checks for home's water supply and drainage systems are necessary. Taking preventative steps will help avoid extensive damage from leaks and mold growth.
So, don't forget to open the windows every now and then, or your home will become a petri dish!
Lack of Ventilation
Lack of Ventilation is a common issue in many homes. It leads to the development of mold. Without fresh air entering a space, moisture builds up. This makes the indoor environment damp and humid. The perfect condition for mold growth.
Basements, bathrooms and attics with few openings are vulnerable to this. If moisture lingers on surfaces or in the air, mold can appear.
One way to prevent mold is to increase ventilation. This removes musty odors and humidity, reducing the chance of mold.
A pro tip for preventing mold is to check bathroom fans and range hoods, to make sure they are working. Additional vents and open windows can improve airflow. Don't let mold grow – increase ventilation today!
Condensation
When warm, moist air meets a cold surface, it loses its moisture-holding ability and condensation forms. This is common in areas with bad ventilation, such as bathrooms or kitchens without exhaust fans. Water builds up on surfaces, creating an ideal environment for mold growth. Homeowners must be aware of this and take action.
To prevent condensation and mold growth, homeowners should find and minimize moisture sources. Insulation around cold surfaces can stop temperature variations that cause condensation. Good ventilation helps reduce humidity and also the amount of condensation.
In olden times, people used natural ventilation instead of mechanical systems. Builders used materials like stone and brick which act as natural moisture absorbers, helping to regulate humidity.
Also, to avoid mold, it is best to dry wet clothes outside, not inside your wardrobe.
Wet Clothes
Moisture is essential for mold growth. Wet clothes left unattended can lead to moisture buildup, creating conditions for mold. Homeowners must make sure not to leave wet clothes for too long.
Clothesline drying increases indoor humidity, particularly in humid weather. This can cause mold if the room isn't ventilated properly. Ensure ventilation when drying wet clothes inside.
Homeowners should take preventive measures to avoid mold growth from wet clothes. Regular checks on washing machines for leaks are important. Closets and wardrobes storing damp clothes need ventilation.
If there is mold in your house, call professionals to address it. Plumbing issues causing water and moisture buildup also need to be checked by a plumber. Monitor moisture content, address dampness, and practice preventive measures to stop mold from wet clothes.
Flooding
Flooding, caused by heavy rain or natural disasters, is a big worry for house owners. Floods bring high moisture levels, perfect for mold growth in homes. Mold spores can spread quickly and cause health problems.
Dealing with flood damage quickly is very important. Floodwater often carries dirt, debris, and bacteria that can be dangerous. First step: remove all damaged materials like carpets, drywall, insulation. These can hide mold growth and other bad things that can hurt air quality.
Mold remediation experts use tools like dehumidifiers and air movers to help dry the area and stop mold growth. This restores the property back to its original state.
Homeowners must take steps to protect their homes. Proper drainage, waterproofing around sump pumps, safeguards against clogging, and covering open windows are all important. Proactive measures can help protect homes from flood and water damage.
Roof Leaks
Roof leaks can bring lots of trouble. If water seeps in, it could be the perfect place for mold to grow. In fact, experts say roof leaks are one of the top ten causes of mold in residential homes.
Leaking roofs don't just create the environment for mold. Also, over time, moisture builds up and goes unnoticed. This lets mold spread. To prevent further damage and mold growth, roof leaks must be found and fixed quickly.
Another concern of roof leaks is that they can increase humidity levels in a structure. This makes it easier for mold spores to grow and spread. Without timely repair of roof leaks, they can lead to large-scale fungal outbreaks.
To fix roof leaks, it's important to work with professionals who specialize in roof repairs and replacements. They use tools like infrared moisture technology to diagnose problems. Even small leaks or minor damage can cause water penetration into insulation and wall cavities, resulting in mold problems.
In conclusion, it's important to fix roof leaks as soon as they are detected. If you think your roof might be leaking, don't wait—contact a roofing professional now.
Poor Drainage
Poor drainage can cause mold growth in homes. Water around the foundation, roof, or gutters can seep in and cause dampness. This creates an excellent environment for mold. Inadequate grading that doesn't direct rainwater away from the house can be a problem. Inside the house, poor drainage in bathrooms or kitchens can lead to mold growth. Neglecting these issues allows mold to spread and be hazardous to health.
It is essential to address poor drainage issues quickly when they are seen. Mold spores can spread quickly and are a significant risk. Any sign of excess moisture must be immediately addressed with repairs and restoration. The sooner you tackle the problem, the sooner you can ensure safety for yourself and family.
Foundation Cracks
Foundation cracks can lead to mold growth in homes. Cracks let moisture seep in and combine with organic matter, such as wood or drywall, creating a perfect environment for mold. Promptly addressing cracks can prevent mold taking hold.
A professional assessment and repair is the ideal solution. Homeowners can also increase ventilation and address humidity. Do not attempt to tackle these problems yourself – consulting professionals is best.
CDC (Centers for Disease Control) warns that exposure to damp and moldy environments can cause a variety of health effects. This could range from nasal stuffiness to serious lung infections such as bronchitis or asthma exacerbation. Homeowners should take necessary steps for a safe living environment.
Hidden Mold
Mold growth can be a common issue in homes. Humidity, poor ventilation, and condensation can all contribute. But, hidden mold can also occur. It may hide in walls or underneath carpets. It is usually caused by water damage or leaks that have been overlooked.
Ignoring hidden mold can lead to severe health risks. Chronic coughing, allergies, and asthma can all be issues. Musty odors and discolored walls and ceilings could be signs of hidden mold. Unexplained allergies or respiratory problems can also be clues.
If you think hidden mold is present, act fast. Call professionals who specialize in mold removal and remediation. Don't ignore it! It can put your family's health at risk. Clean regularly and check for water damage and leaks. Investing in prevention today can save you headaches in the future!
Signs of Mold Growth in Homes
As a homeowner, it's important to know the signs of mold growth in your home. From furry growth to stains and specks, these warning signs can indicate a bigger problem that could lead to health issues for you and your family. Moisture is the main contributing factor for mold growth, and certain activities within the home can increase its likelihood. In this section, we'll explore these signs and factors in depth, as well as tips for preventing mold growth in your home.
Furry Growth, Stains, or Specks
Furry growth, stains, or specks on surfaces are signs of mold growth in homes. It can be tricky to tell which type of mold it is, so professional help and testing may be needed. Not all molds are harmful, but any indication of mold should be taken care of promptly.
To stop furry growth, stains, and specks caused by mold, addressing moisture issues and proper ventilation are essential. Also, proper storage and maintenance of household items can help prevent mold.
Fixing mold problems at home includes finding the moisture source and repairing leaking pipes and foundations. Avoid solutions like tanking and liquid sealers, as these may only cause more problems later.
Health Problems Caused by Mold
Mold growth is alarming. Breathing in spores can cause allergic reactions, respiratory problems and illnesses. It can even lead to asthma. Toxins released by mold can cause coughing, sneezing and headaches. Severity depends on sensitivity, exposure and type of mold.
Preventing mold is key for health. Ventilation and moisture control are important. Fixing issues like leaking pipes and humidity stops mold breeding.
One family had a frightening experience. They found fungus growing on their walls and toxic black mold under the carpet. It was costly and emotional. They vowed never to risk living with such hazards again.
In conclusion, mold is dangerous. Prevent it with good ventilation and moisture control. Address moisture-related issues to avoid mold breeding. Let's keep our homes free of mold!
Moisture as a Main Factor for Mold Growth
Moisture is key for mold growth. Mold spores are everywhere and just need moisture to grow. Floods, leaking pipes, and condensation create a perfect environment for mold. Ventilation is needed to reduce humidity, as activities like cooking, bathing, and laundry also contribute to it. Not all mold is bad, but it should not be ignored as it can harm health and damage structures.
Activities that Increase Moisture
Activities that cause moisture in homes can cause mold growth.
If not managed properly, it can harm health and damage property. Ways to increase humidity include showering or bathing without ventilation, drying wet clothes indoors, cooking without exhaust fans, growing indoor plants, and keeping aquariums without covers or maintenance. To stop mold and have a healthy home, managing these activities is a must. A successful mold prevention plan is a clean, dry, and well-ventilated home. Quickly fix any issues to avoid needing professional help.
Preventing Mold Growth in the Home
Proper ventilation is key for avoiding mold growth in the home. Reducing moisture levels creates an environment that's not favorable to mold. To address persistent humidity, it's essential to invest in a dehumidifier or air conditioning unit. Additionally, regularly check vulnerable areas like plumbing fixtures and roofs to identify potential sources of moisture.
Good hygiene practices also help to prevent mold. Ventilate activities that generate more moisture, like cooking, showering and drying clothes. Clean surfaces with soap and water or specialized mold cleaners.
Regularly inspect areas prone to water damage and repair pipes or foundations if necessary. Taking an active approach with regular inspection and maintenance is essential for a healthy living environment.
In short, reduce moisture and use preventive measures to create a mold-free home. This way, you can ensure a safe living environment for yourself and your family.
Increasing Ventilation
Ventilation is a must for avoiding mold in homes. Poor ventilation can cause mold by raising the moisture level. Thus, increasing ventilation is important for a healthy living environment.
To better home ventilation, opening windows and doors from time to time is a successful option. This helps to bring in fresh air. Extractor fans in bathrooms and kitchens can also help to remove extra humidity before it reaches other parts of the house.
Installing exhaust systems is another effective way to improve ventilation. These systems can enhance airflow and keep air conditioners clean and well-maintained. This can considerably improve air quality inside the home and stop mold formation.
Outdoor air circulation is also essential for adequate ventilation in homes. Opening doors and windows occasionally allows indoor high humidity air to escape and be replaced with dry outdoor air. This stops mold growth and protects people from health issues.
In conclusion, ventilation is key for avoiding mold in homes. Proper ventilation eliminates extra humidity and moisture and lets fresh, dry air to circulate in the house, boosting homeowners' quality of life. Thus, it's better to take steps to stop persistent humidity causing mold growth and save yourself from misery.
Addressing Persistent Humidity
Homeowners have major concerns about persistent humidity. It can lead to mold growth. Mold spores spread quickly in areas with high moisture or dampness. So, it's important to find the root cause and fix it.
Ventilation is key. Installing exhaust fans or opening windows can reduce moisture levels. This also improves air quality inside.
Dehumidifiers are another solution. They reduce excessive moisture levels in the air. Making it harder for mold spores to grow or spread. They work well in basements or other areas of a home with high moisture.
Storing and maintaining household items is essential too. Wet clothes, towels or fabrics should be dried and kept in dry, well-ventilated spaces. Cleaning, inspecting and repairing leaks or damage regularly, helps stop mold.
By taking these steps, homeowners can prevent mold growth and improve air quality. Identifying the root cause, increasing ventilation, using dehumidifiers, and properly managing household items are all important for addressing persistent humidity.
Proper Storage and Maintenance of Household Items
Household items, like furniture, carpets, and clothes, can be vulnerable to mold. To stop mold growth, it is essential to store and look after these objects properly. Here are some steps to keep household items mold-free:
Air out storage areas to stop moisture from increasing. Without ventilation, a room can get humid – this is a perfect place for mold to breed.
Dry wet or damp items straight away. This is especially important if an item gets wet due to a leak or spill. The sooner it is dried, the less likely mold can grow.
Clean and disinfect surfaces regularly to kill spores. Routine cleaning of surfaces can prevent mold from growing and eliminate existing spores.
Also, try not to stuff storage spaces. This will trap moisture and cause mold growth.
Lastly, throw away or repair items that are beyond saving. Mold spores can hide in ruined items, which is bad for health, and can spread to other items.
If there is water damage or a leak, take care of it right away. Water-damaged objects should be taken out of the property, and proper ventilation should be kept in areas where household items are stored.
Use plastic containers with airtight lids instead of cardboard boxes for storing household items. This will stop moisture from accumulating, and help stop mold.
Storing and looking after household items well is essential to prevent mold and have a healthy home.
Fixing Mold Problems in the Home
Are you concerned about mold problems in your home? In this section, we'll explore some effective ways to fix this issue. We will begin by identifying the moisture source, which is often the root cause of mold growth. Next, we'll discuss repairing leaking pipes and foundations, which can contribute to excess moisture in the home. Then, we'll delve into removing and preventing mold growth, and the dangers of ineffective solutions like tanking and liquid sealers. With the right knowledge and action steps, you can fix your mold problems and have a safe, healthy home.
Identifying the Moisture Source
Moisture causes mold growth in homes. To find the moisture source, it's important to find the root cause of too much moisture. Common reasons are leaking pipes, high humidity, and no ventilation.
To find the source, look at visible mold on walls/ceilings for water stains/discoloration. Also, check for musty smells, damp basements/crawl spaces. Measure humidity levels with a hygrometer tool.
Once you find the source, fix it right away. Repair leaking pipes/foundations and dry up standing water after floods.
Pro Tip: Taking action quickly is essential to stop mold from regrowing after you remove existing colonies.
Repairing Leaking Pipes and Foundations
Preventing mold growth in the home is essential. Moisture triggers mold growth, and pipe or foundation leaks can cause persistent humidity. To repair these, follow these 6 steps:
Locate the main water valve and turn it off to stop any further leaking or flooding.
Determine where the leak is coming from by looking for signs of damage on visible pipes or foundations.
Gather plumbing tape, sealant, cement, or epoxy, depending on the extent of the damage.
Follow product instructions and wait for them to dry before restoring water.
Use fans or dehumidifiers to dry out any remaining moisture, if flooding occurred.
Turn on the water valve and look for leaks around repaired areas.
It's important to act fast. Delaying repairs can lead to costly damages. Addressing moisture promptly will prevent damages and keep harmful molds away.
Remember, repairing is only one step. Regular inspections and maintenance can help identify potential problems with plumbing fixtures and other water sources. Taking action can avoid expensive repairs and protect you from mold-related health issues.
Removing and Preventing Mold Growth
Mold growth in homes is a common issue that needs urgent action. To tackle it, three steps should be taken. Firstly, locate the source of moisture and repair any leaking pipes or foundations. Secondly, use proper cleaning agents or seek professional help to remove all visible mold. Lastly, ensure proper ventilation and address any other sources of humidity.
Some solutions such as tanking and liquid sealers may not be effective as they don't address the root cause of mold growth, i.e. moisture. Seeking expert help or following correct guidelines is recommended.
For example, a family recently found black mold in their basement due to lack of air circulation. After locating the problem and taking the necessary steps, they managed to get rid of the mold. They also prevented its return by installing exhaust fans. Properly removing and preventing mold growth is essential for the safety of homeowners.
Avoiding Ineffective Solutions like Tanking and Liquid Sealers
Mold growth is a serious issue in homes. Solutions like tanking and liquid sealers are ineffective in the long run. To properly prevent mold growth, you must identify the source of moisture. This means repairing any leaks or cracks in pipes or foundations. Also, proper ventilation and storage of items susceptible to mold growth should be applied. This will help you avoid tanking and liquid sealers and effectively prevent mold growth.
Five Facts About What Causes Mold:
✅ Mold grows with moisture and can be found in damp areas like bathrooms, kitchens, basements, cabinets, and near pipes or ducting areas. (Source: Team Research)
✅ Mold can cause respiratory problems with long-term exposure and is hyper-allergenic. (Source: Team Research)
✅ Common causes of mold in homes include persistent humidity, leaking pipes, lack of ventilation, condensation, wet clothes, flooding, roof leaks, poor drainage, and foundation cracks. (Source: Team Research)
✅ Moisture is the main factor that contributes to mold growth in homes, and activities like cooking, showering, and using humidifiers can create more moisture. (Source: Extension.umn.edu)
✅ Mold can grow on various surfaces, including paper, food, clothing, and carpet, and can also grow in hidden areas like behind drywall and inside walls. (Source: Ecofmr.com)
FAQs about What Causes Mold
What are molds and how do they grow?
Molds are microorganisms that can grow on almost anything if it is moist enough. They thrive in damp, dark environments with organic matter such as bathroom walls, trim around windows, and carpets. Molds grow with moisture from sources like persistent humidity, leaking pipes, or lack of ventilation.
What are the common causes of mold in homes?
The 10 common causes of mold in homes are persistent humidity, leaking pipes, lack of ventilation, condensation, wet clothes, flooding, roof leaks, poor drainage, foundation cracks, and moisture trapped inside walls and carpet.
How do I keep my home free from mold?
It's important to identify and fix the source of moisture that is causing mold to grow and spread. Increasing ventilation by using fans, opening doors/windows, or investing in a dehumidifier can help prevent mold growth. Regular cleaning and maintenance can also help prevent mold growth.
What should I do if I have mold behind drywall or inside walls?
If you suspect mold growth behind drywall or inside walls, it's important to hire a professional for mold remediation to get rid of the mold and kill remaining mold spores. It's not recommended to cover damp walls and mold growth with products like tanking and liquid sealers as it may only solve the damp issue on the internal wall.
What are the signs of a mold problem in my home?
Signs of a mold problem in your home include leaks in the roof or plumbing, light stains or a strong musty smell on walls or rugs, mold in the basement (especially if it floods), and water damage around windows.
What can I do to prevent mold growth in my home?
To prevent mold growth in your home, it's important to keep moisture levels low by fixing leaks, increasing ventilation in high-moisture areas, and addressing persistent humidity. Avoid storing wet items and make sure to dry them thoroughly before storing. Regularly clean and maintain all areas of your home to prevent mold growth.
About the Author
Latest Posts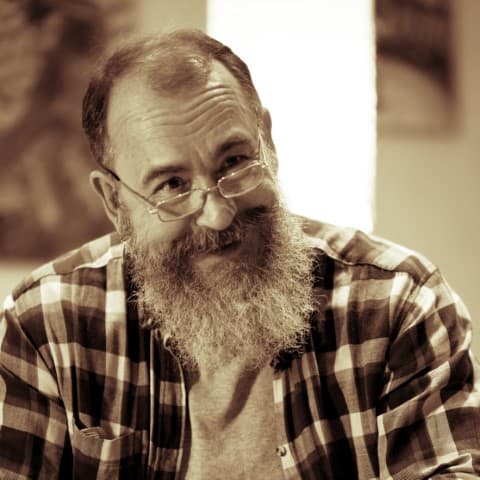 Keith, founder of MoldGuide, transformed personal adversity into a mission to help homeowners combat mold. After his wife suffered health issues linked to a home mold infestation, Keith launched several businesses within the mold and home health niche. An experienced publisher, he leverages his practical experience to offer accurate and understandable information on MoldGuide. Committed to a world where everyone breathes clean, mold-free air at home, Keith's goal is to empower homeowners to maintain healthier living spaces.